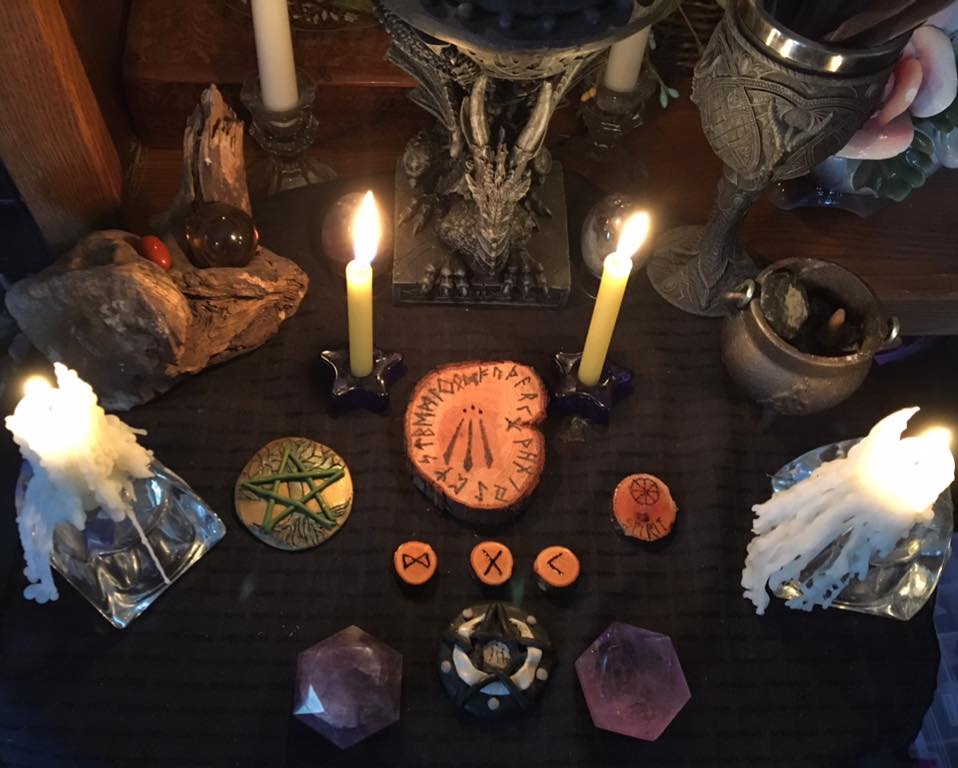 Awakening and enlightenment are the themes from today's runecasting. Dagaz, Gebo, and Kenaz are today's runes and a closer look shows us that Dagaz contains both Gebo and Kenaz within its structure. Gebo provides the center and Kenaz opens to all sides. Balanced energy exchange along with the bright light of clarity form the energy of awakening and enlightenment expressed by Dagaz.
The twenty-third rune of the Elder Futhark, Dagaz signals the ending of one phase and the beginning of another. We stand in the middle of the rune, one phase transforming into new awareness and experience. Perfection and synchronicity are attained with Dagaz in full remembrance of our Unified Presence.
We bring ourselves into balance with Gebo, the seventh rune of the Futhark that appears in the center of Dagaz. Aligning in our Unified Presence, we create a link between all. Gebo is the rune of partnership and gifts, fostering generosity and mutual benefit.
Kenaz follows as the sixth rune of the Elder Futhark representing light and clarity. Appearing on all sides of Dagaz as well as Gebo, it's rays awaken and transform the creative self, intensifies intuition, and as the rune of openings, Kenaz reveals what others would keep hidden, providing the clarity necessary for awakening and enlightenment.
When other runes are visibly present in a given rune so are their influences. The clarity found in Kenaz influences the enlightenment achieved by Dagaz. Living in balance or alignment with our Unified Presence provides the structure necessary for enlightenment. So it's easy to see how one rune influences the interpretation of another.
In rune magick, specific runes are combined together in a pattern meaningful to the runecaster, blessed and consecrated, and then used in magickal workings or ritual for casting a particular influence or intention. Individually, the runes carry all the magickal influence necessary for any kind of work, but together they become something more and the reason for their continued use by witches who also cast runes.
But typically, when we cast the runes, we're asking for what influences are in play. At least that's why I do it. I'm looking for a higher focus, one that doesn't derive its interpretation from perception so I more often than not refrain from asking specific questions. Divination, from my perspective, should be reserved for what the Unified Presence wishes to share and not a question and answer session.
A bindrune isn't necessary in this case because Dagaz can serve that purpose. It can be drawn on anything as a focus for clarity and can be worn or carried as a talisman to encourage positive exchange with others. Enlightenment is achieved when we understand and fully embrace the nature and resonance of Dagaz.
The overall numerology of the runecasting is nine or completion reinforcing the influence of our runecasting. It's time for a new approach, one based on an awakened and enlightened presence. It's the result of the ascension we now experience as we choose love over hate, peace over conflict, and unity over division.
Our lives in third density are all about choice. Do we choose a focus on self over a commitment to loving exchange with others? Is a focus on self really the best choice to influence our awakening to awareness of our Unified Presence?
The choice we make determines everything.
Blessings to our one family, united in purpose, enlightenment is assured!