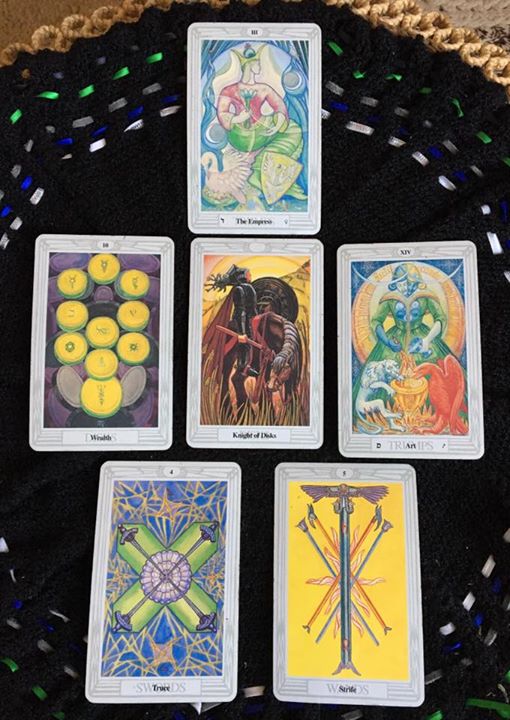 I was looking through my tarot notebook and found a tarot spread dealing with fate, free will, and destiny. Given what's going on these days, it seemed apropos. A six-card spread, it defines the issue at hand, looks at a possible reaction, and then discusses what's inescapable, possible changes in store, and the choice we make. Finally, the unexpected finishes out the reading.
Two cards from the Major Arcana, The Empress and Art, are present along with one Court card, two cards from Disks, one from Swords, and one from Wands. Air and Water aren't included. The numerology of 3, 4, 5 10, and 14 reduce to 36 and from there to 9 or Completion. The spread begins at the bottom left and moves to the right and upward from there.
The Issue
The 4 of Swords supplies our issue for the day, Truce, and asks us how we move forward when the way isn't clear. The points of four swords come together in the center of a flower suggesting an uneasy peace after conflict. A card of Jupiter in Libra, the card contains colors reflecting influences of equilibrium and justice, the numerology of 4 suggesting Gaia energy and structure.
A balanced force is reflected, precarious in nature, perhaps choosing the lesser of two evils in our uneasy truce. While conflict cannot continue, our destiny is still unclear. The current situation is in flux and the risk is that we give away our power in any truce we strike. However a truce of sorts also gives everyone a chance to go within and assess not only the present but also the future as well.
Possible Reaction
Strife is how Crowley conceives of the 5 of Wands. Four wands appear in balance behind a single ornate wand in front, the catalytic colors of Saturn in Leo providing its energetic influence. While the card indicates a certain sense of resolve, it would seem that choosing this option creates more of an impasse than resolution.
The 10 of Disks suggests Wealth as the unavoidable aspect influencing our viewpoint. Either we have wealth we wish to preserve, or our choice is based on the promise of future wealth gained. A sense of completion is felt with this card but is that completion certain or at risk?
Potential Change Needed
Integrity fills the heart of the Knight of Disks. The Prince in other decks, the Knight sits on his horse, resting after battle in a field of grain. All danger has passed as his horse looks for sustenance, the Knight's face looking toward the horizon. He is responsible and trustworthy in all matters, particularly with respect to finances.
The Choice Involved
Art, also called Temperance in other decks, suggests the alchemical principle within. We are purified with this card from the Major Arcana. The card represents balance within, the individual on the card depicting both sides of self, blending together a potion in the cauldron that brings forth a new creation. The colors used depict balancing Fire with Water, our catalytic and emotional presence into harmony and peace.
Unexpected Influence
The Empress as Goddess, the other card from the Major Arcana, represents the unexpected influence of the reading. She reminds us that she's been waiting for our call, for our ascension into Spiritual Oneness. Her elegance, graciousness, and strength of influence will outweigh anything the negative or dark forces have in store for us. She is our Mother reestablishing the very foundation of our lives.
∞
The reading is suggesting that a truce of some kind is in order. We've fought a long, hard battle where so much hate and division has surfaced. We're at odds with each other, much of it based on lies and deceit. We've been sold a bill of goods and a truce is needed so that deceit gives way to truth. But where will our free will take us? One option, to continue the strife felt by all, doesn't seem to be the way out of our conflict.
Wealth seems to be at issue as evidenced by all that we appear on the verge of losing. The winner of the election that has caused such upset has suggested that his win will result in abundance for all. Few believe that as our health insurance, our vote, and our democracy is upended as we watch in horror.
The change that's suggested is one born of integrity. Instead of creating a world of lack, which is what he and his minions seem hell bent on doing, we could be creating a world where all are uplifted. Our free will can choose harmony and love, living in service to others instead of service to self, finding our strength in unity instead of division.
I have to wonder if his supporters really understood who he is when they voted for him. Did they know what we all stood to lose? Time will tell how this will unfold but currently the outcome is questionable at best.
The unexpected influence of the reading is the Empress. We've come full circle in this dance between projective and receptive influences. Goddess presence has returned and will surely have something to say about all of this. Irrespective of the dark forces that surround us, we cannot turn back now from coming together as one. It's our birthright. It's who we are.
With free will, we choose our fate. And with love and unity as our choice, our destiny isn't complicated at all.
Blessed Be