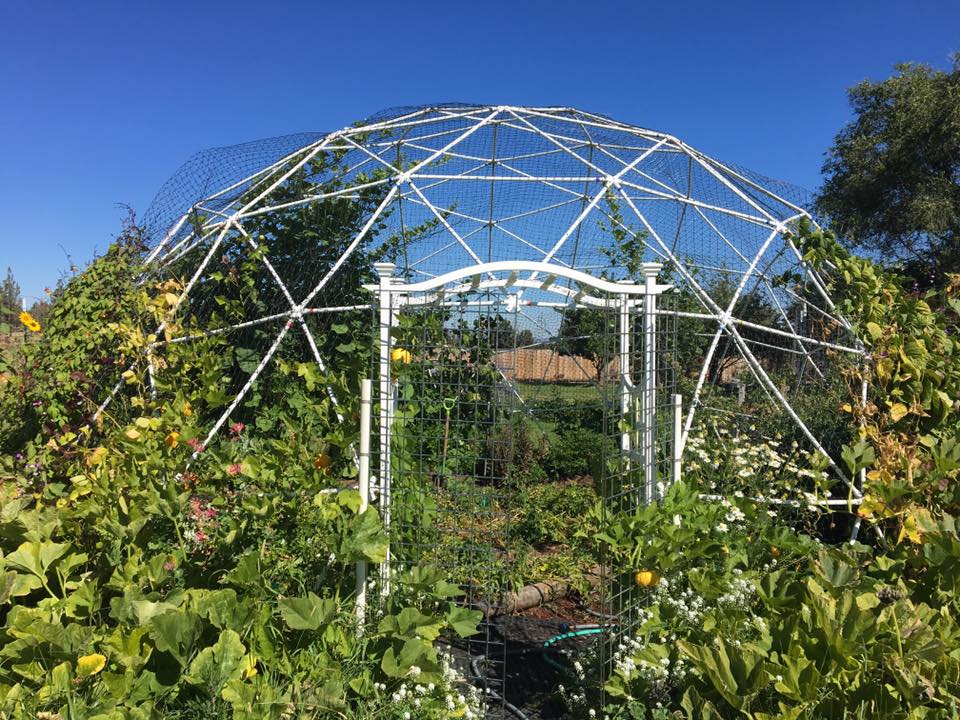 The dome we put in was a complete success. The hugel beds which we also put in exceeded our expectations as everything we planted both inside and around the outside of the dome went crazy. I've frozen more beans than I did last year and even though it's October and we've had some frost, they're still growing. The gourds are finishing out and I'm letting them hang, curing a bit before I cut them down.
The year has been odd though for tomatoes. I have a section over by my cannabis plants that came up as volunteers, mostly of the Roma variety. They're loaded with tomatoes but they're taking their sweet time to ripen. The same with the Big Mama Roma plants in the dome. But we have some warm weather over the next week or so and if I need to, I'll hang them inside to finish out. I have no blossom end rot this year. I added epsom salts to the planting holes before dropping in the transplants. It really does make all the difference. But I've been able to make a bunch of tomato soup so far and last night I canned 5 quarts of pasta sauce.
The apiary greenhouse had a hard time getting started, but then it took off. My clematis died out, however, but it was fairly root-bound when I bought it, so I didn't have much emotional investment in it. The two over at the dome made it though as did the honeysuckle I planted. It's all about the bees you know. I listened to someone in our local bee community and pulled my honey too soon on my new split and I lost the whole thing. I'm sure they went back to the original hive, but I'm done listening to anyone other than Michael Bush and a few others who are more into the natural side of beekeeping. He's amazing and his videos are full of great information and Jerry and I have learned so much from them as well as his books.
The Thai pepper and celery continue to grow in the dome while temperatures remain above freezing. This is the first year I've grown celery. I had no idea it would grow here on the High Desert and it was so adorable coming up. Each one came up with tiny celery leaves and while the stalks didn't get as big as those in grocery stores, at least mine don't have a bunch of pesticides on them, and they taste great!
The new herb garden was prolific even though my arnica, elecampane, and wood betony didn't come up. They might come up next Spring though. So I'll get more seeds, but wait to see what actually comes up before replanting. My white sage and skullcap came up at the end of the season, so you never know. I'm just thrilled it worked out because creating the space with eight foot game fence isn't exactly easy. But everything I planted is perennial and I've already harvested all kinds of herbs to dry for tinctures, salves, and teas, and after one last weeding and mulching, the garden will ready itself for the coming year.
We have spuds galore! I grew six different varieties in the dome and some of them are huge. A few had obvious water spots and we chucked those, but that was probably due to running irrigation water through the dome. We have another bed outside of the dome as well as two structures that typically yield tons of spuds, but as of yesterday, we've harvested over one hundred pounds. We'll probably harvest the rest this weekend.
I would be remiss if I didn't include my helpers in the garden. A snake has been my constant companion in the dome and his watchful eye was always present, crawling all over the dome, hiding among the beans, melons, and gourds.
Of course butterflies, bees, and lady bugs were ever present. It's odd to harvest herbs next to a borage plant vibrating with hundreds of honeybees and bumblebees. But we all shared space and it wasn't until I was watering over by some comfrey that I got stung. Multiple times. That never happens over at the hives. If I'm stung, it's on the finger while moving frames or something.
Butterflies were all over the garden, seeming to follow me everywhere. But the best one was the praying mantis. I love those guys! They all stood ready to pollinate and protect. And our gardens simply cannot do without them.
Fall is here with winter soon after. My garden gets better and better, with full credit going to the bees. Observe them and watch as they show us the way forward. They operate as one organism. It's their reality, just as it is ours.
~Blessed Be
Oh..one last picture..of Agent Orange. Wonderful medicine!
References:
Michael Bush ~ The Practical Beekeeper.