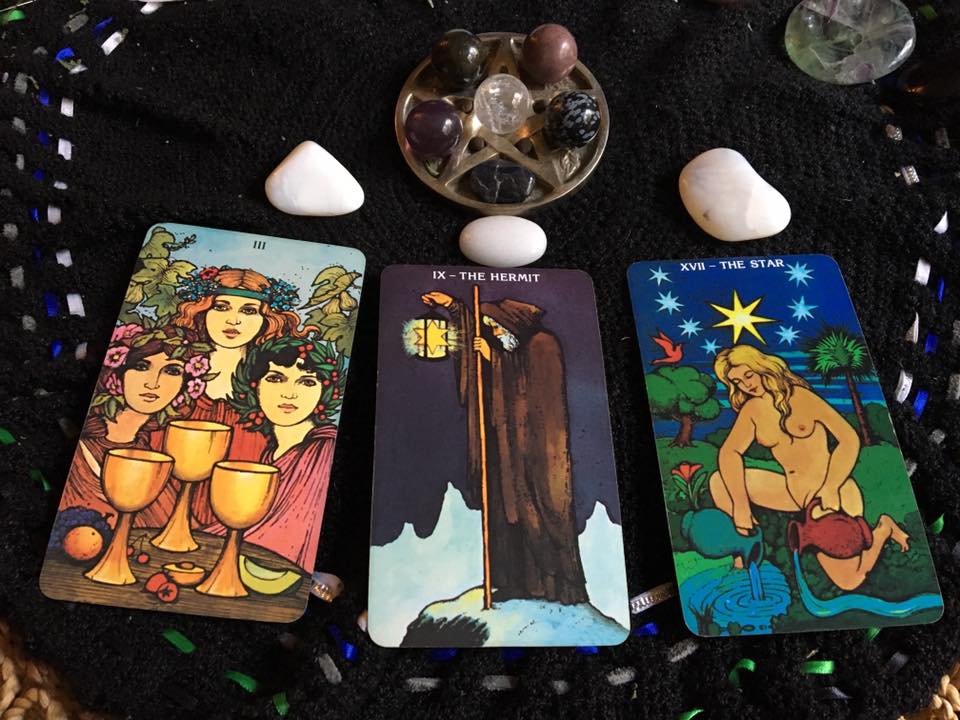 So many of my tarot readings these days contain cards from the Major Arcana, sometimes dominating the reading. The 3 of Cups begins this three-card spread with both The Star and The Hermit giving a dominant influence. 11 represents the numerology of the spread suggesting illumination is at hand. Tomorrow brings what may be the most important Presidential election of our lives. A qualified woman versus every woman's nightmare. Easy choice to make.
Success, abundance, balance, and celebration are illustrated in the 3 of Cups, a suit of Elemental Water. Three friends sit together in celebration, in loving harmony, cups full in front of them. The Hermit is Source personified, the quiet counsel on the hill, illuminating our way. The cloaked priest stands holding a staff in one hand, the light of Source Presence represented by the glowing Merkaba within a lantern held with the other. Also representing Hecate, the Goddess in her Crone aspect, The Hermit represents Divine Wisdom within, giving light to creation. The Hermit withdraws from the world, aligning with Source Presence, in observation and reflection.
The cards from the Major Arcana (NEVER calling them the T word ever again..ever) indicate archetypal or foundational influences or energies. I see them more specifically as qualities depicting the attributes our Source Presence while in physical form. The Star ends the spread kneeling with one foot in the water and one knee on land, her pouring of water representing our emotional balance in form.
We are energetic beings, with emotion at our essence. If that emotion is out of balance, then we judge harshly the world around us, resulting in the daily hate we're seeing during this election. We fool ourselves into believing that we intellectually process what we see and experience, but in truth, we do that from an emotional state. Mind can tell us all sorts of things that we want to hear, but it's our emotional resonance, when in balance, that tells us the truth. In balance, our emotional presence brings us together. When not in balance, judgment and hate rule the day.
We wish upon a star, hoping our dreams will be fulfilled when The Star presents in a reading. The Star is the Blessed Conduit between physical and nonphysical presence, She is hope and inspiration, and her presence and vision tells us that bright days are ahead. We know from the 3 of Cups that a celebration is in store, with harmony and love as its focus. Our way is illuminated by our alignment. We know what's necessary to bring purposed fulfillment to our lives.
The Goddess is rising within us all. Patriarchy..misogyny..neither has a place in our world anymore, replaced by loving Goddess Presence. Harmony is our way forward, with division a thing of the past. This election gives us a chance to build a harmonious future for all of us.
One more day, my sisters and brothers..one more day.
Blessed Be