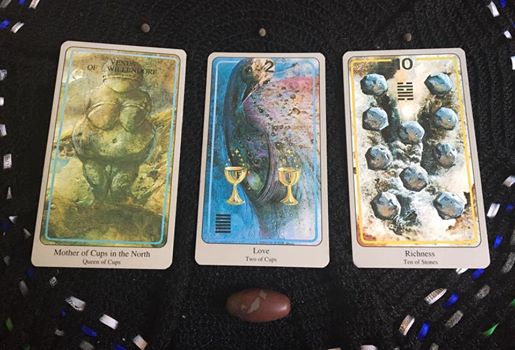 Venus of the Willendorf represents the Goddess as the Mother of Cups. Known as the Queen of Cups in other decks, Hermann Haindl paints her in her donii form, her abdomen bulging with life, her breasts full of milk. She is the loving Earth Mother, the matriarch who, aligned in Source Presence, guides her family and the community at large. She observes in quiet reflection, her intuition her guide.
The stone artifact depicted on the card was unearthed by an Austro-Hungarian archaeologist by the name of Josef Szombathy in 1908 near the village of Willendorf, Austria and has been determined to have been carved between 28,000 and 25,000 BCE during the paleolithic time in our history. Artifacts such as this one are believed to depict the Goddess as Mother and were carved in reverence to her blessed Divinity.
Yes, believe it or not, there was a time when women were actually revered instead of what we experience now.
The 2 of Cups continues the emotional presence of the Mother with a peacock lovingly gazing at two golden chalices made all the more magickal by the seven stars arising from each. A sense of things to come, perhaps children in the future are felt with this card. The magick of love heals everything. But also, this card is about balancing the masculine and feminine nature within, a balance that's sorely missing in today's world. Are we in service to others, or service to self? It's not that service to self can't be a rewarding and loving experience, but when it turns to the oppression we experience today, then it's clear our balance has been lost.
The 10 of Stones, Pentacles, Coins, or Disks in other decks, is called Richness. This suit of Elemental Earth indicates the richness of our foundation. Depicting ten stones in balance, the card reflects strength and prosperity as well as legacy. When in balance, we create a successful outcome for all. When we're not, then we fail to see the larger picture and the strength that unity provides. Instead, we seek to oppress others in an effort to be a winner as our upcoming president is fond of saying.
Win at all costs. Never for one minute be responsible for the lies it takes to win, just do whatever it takes to win. Find strength in the oppression of others because it's all about the money and control you believe you have.
The cards today suggest another approach. A return to the strength of the Feminine Divine in all. Love is the only way forward. The 2 of Cups fully illustrates this with the promise of richness ours when the Mother presence is respected.
The numerology is 2 and 10, resulting in 3, or the principle of unity. Mother and Father unite in creation of a child, thereby expressing their unified presence. We've lost that these days, the creation becoming far less than it could be.
Today's reading illustrates that a loving and balanced presence is our only way out of the nightmare we've created. Disunity must give way to our fundamental unity in Source. We are one in Source Energy. That doesn't change while while appearing in individuated form.
When we oppress others, we oppress our own Selves. All are a reflection of the Creator, of Source Energy, and although we may appear different, we are in fact one infinite vibration of love.
Go within and remember.
Blessed Be
Photo credit: