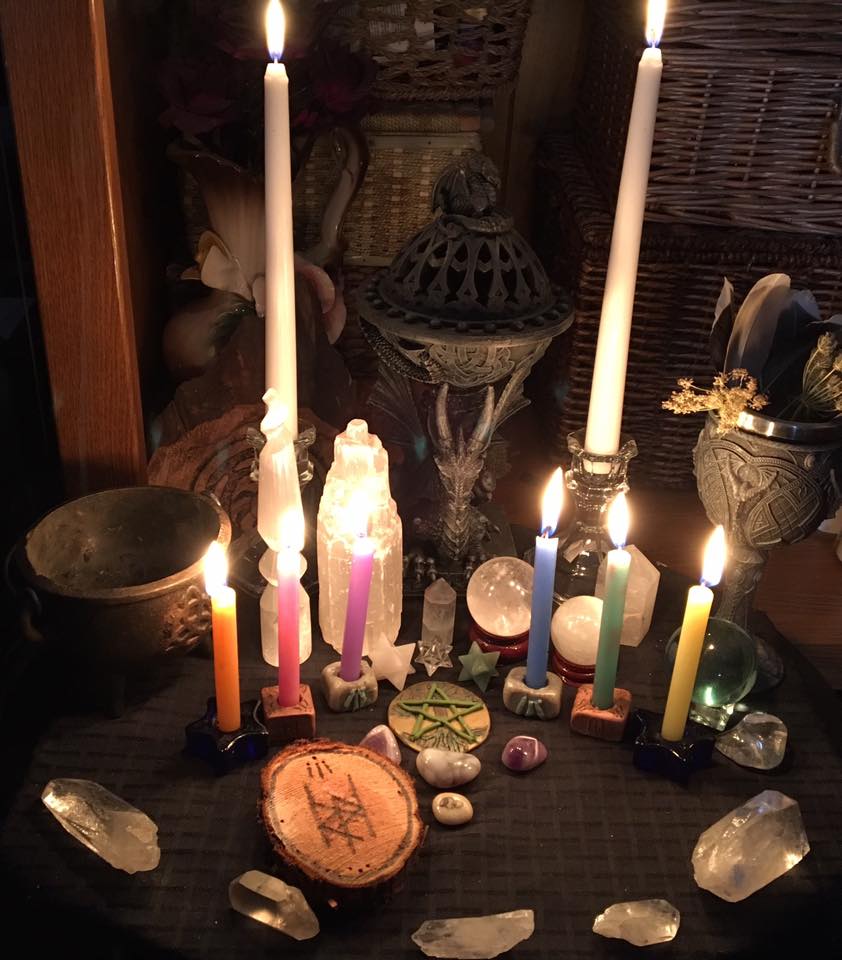 With tonight's Full Cold Moon also a Super Moon, I wrote a short spell for healing and unity. I posted yesterday the drawing of the bindrune I'll use for it, and today I created the actual bindrune for this evening's ritual. Full Moons are the time for setting our intentions for the coming month, or longer if appropriate, for healing, and empowerment.
For the altar, I decided to use not only white candles but an assortment of smaller pastel colored candles to symbolize loving unity. Various quartz crystals are placed around as well as a selenite tower, wand, and sphere. A cauldron is burning and the bindrune is placed there for blessing and consecrating after which it will be used in the healing and unity spell.
Bindrunes are great to use for magickal workings because they blend archetypal energies together for a particular intention. This bindrune brings together the energies of Hagalaz, Jera, Wunjo, and Uruz to manifest healing and unity. Many have been torn apart from recent events by dark forces who care only about furthering their own agenda. But this lower vibration, this lower energy, that seems to want to control at the expense of all decency, can be transmuted by a collective resonance of love and unity. We have always been stronger together and it's where our healing lies.
Ritual oils for full moon and healing can be used to dress the candles, or any other oil that resonates. I'll be burning frankincense on charcoal in the cauldron, but any kind of incense can be used whether in a cauldron or not.
Begin your ritual as you like. I open mine by casting a circle, blessing the Norns, and then invoking the Pentagrams of Protection. You can refer to the protection spell I posted here for those rituals. And when you're fully aligned in Source Presence, cover your bindrune with your projective hand and chant:
I bind these runes
Blending energies within
Bringing balance without
Infused with immanence
I bless and consecrate this sigil
In alignment with Source
Pass the bindrune through the smoke from the incense three times, repeating the chant again. Repeat it one last time while passing the bindrune over the candle flame three times.
Continue now with the spell by holding the bindrune in your receptive hand, your projective hand covering it. While still holding the bindrune, raise your hands to Goddess and chant three times:
Sanitas partum  (create healing)
Creare unum  (create unity)
Ligare nos  (bind us together)
Finish by chanting:
Veritas revelat  (reveal truth)
Desiderium patefactum  (my desire manifested)
Salva veritate  (with truth preserved)
At this point I typically have some other ritual work I do including drawing down the moon. But you can end your Full Moon Ritual as you like. I'm a solitary hedge witch, so my own tradition is ever-evolving. Others are part of covens who have their own lovely traditions and spellcraft that are filled with such meaning. And if you're not exactly of the witchy persuasion and you're joining in with this spell for unity and healing, I extend many, many blessings to you. You can end the ritual as you like or by stilling your presence.
Of course it's lovely when you can perform the entire esbat ritual outside under the Full Moon, but as it's going to be in the 'teens tonight at this witch's house, I'll be doing most of the ritual indoors. However I will walk outside to perform the spell under the Full Moon, whether she's visible or not. Snow is in the forecast for tomorrow, so some Goddess Moonlight shining down will be so nice.
The dark forces that surround us will never have their desired effect as long as we collectively raise our vibration to one of love and unity. It's through that presence that healing takes place. And through our healing the light of truth will resonate forth.
Blessings to all!